ELECTRIC GATES
Electric and automatic gates by Gates and Fences UK. We offer a huge range of electric driveway gate types such as double driveway gates, electric sliding gates and 3/4 split electric gates in a choice of materials inc pine, metal, hardwood iroko and cedar.
Electric Gate Types
There are several types of electric automated gate systems. These are sliding, above ground or below ground systems with a choice of either 24v or 230v motors. The power required does depend on what the electric gate is made from. Generally speaking, a wooden, close boarded gate would need a 230v automation kit. This is due to the gate creating a "sail" effect therefore, more power is needed to open/ close. With electric sliding gates, either 24v or 230v motors can be used. All of our gates can manufactured for automation, Pine Gates, Hardwood Gates, Metal Gates and Metal Infill Gates. Most gates do need to have additional strength, such as larger centre rail, to handle the stress and strain an automated system requires. If you are planning on having a gate automated, it is best to call our team and speak to our staff on 0800 6124 965.
Choosing the right motor power
For standard double driveway gates, the power of the motor usually depends on the material of the gate. For electric wooden driveway gates 230v, for electric metal driveway gates 24v. For sliding gates, 24v is usually the correct motor to use. This can alter if on a commercial property or a house where the gate needs to open and close frequently.
Electric Gate Safety
This is our guide to help you understand more about gate safety. It is your responsibility to ensure a qualified automation installer carries out a risk assessment of your property first to ensure all safety precautions are met (signs, visual/audio aids to detect gate movement, photocells, safety edges etc where required). It is also important that after fitting they pressure test the gates, and give appropriate training on how to operate your gates safely.
There is many considerations to make when automating your gates whether it be a swing gate operation or a sliding gate.
Safety Edges:
Safety edges are used where there is any danger of entrapment or crushing may occur. They work by detecting any obstacle it comes into contact with. This then sends a signal to the main board which will stop the gates from operating (some motors will reverse and try the movement again a couple of times and if still detecting any obstruction will then cease.) Any gap that has less than 500mm width between gate and obstruction will need safety edges. If the ground is not level it is worth fitting safety edges along the bottom of the gate as this is also an area of entrapment.
Photo Cells:
On a typical installation you should expect to fit 4 x photocells. These are infra red devices that are fitted in pairs opposite each other and send an invisible signa
l/ beam that if broken will stop the gates from operating. It will detect children, adults, animals, cars etc.
Where photo cells are fitted will vary from site to site but below shows a typical set up.
Swing Gates: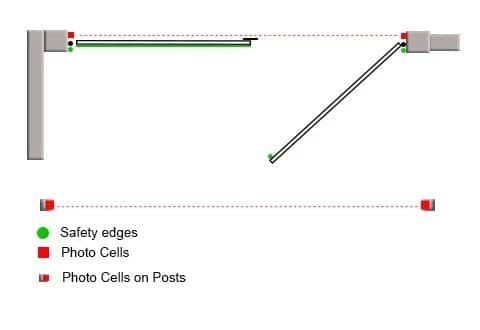 Either end of sliding/ cantilever gates will need safety edges as well as any areas between the gate operating and the support posts where hands/fingers could be trapped.
Shear points are worth noting (where the gate may have gaps between bars and an obstruction could go undetected if additional safety edges and photocells are not used)
Warning Devices:
Flashing lights and audible sirens can be used to give additional warnings of the gate operating or about to operate
To summarize, gates can be very dangerous if not fitted correctly with all risk assessments taken place prior to any installation and every installation is different. We would always recommend against DIY fitting and opt for a qualified automation installer.
Electric Gate Set up Examples
Automated Underground Automation
Example of underground automation in operation fitted to our Warwickshire Driveway Gates. Gap between bottom edge of gate and ground needed to be increased due to driveway sloping upwards towards the customers property. As you can see, the underground automation motors are fitted in the ground to the side of the pillars. A bracket then attaches the gate to the motor. Underground automated gates are ideal for hiding the motors and keeping the appearance of the gate
Automated Electric Sliding Gates
Metal sliding gate opening and closing. This system was fitted to our Arundel Sliding Gate, using a track in the ground system and a FAAC 740 automation kit. The gate is supported using a "U" track fitted horizontally to the centre of the gate. This is then supported by the support post (positioned towards the right side of opening). Nylon rollers connect the support post to the gate.
Above Ground Automated Gates
Above ground automation fitted to our Baywood Hardwood Driveway Gates. Centre rail (not shown on video) has to be increased to enable the gate to withhold the pressure from the automation kit. We advise all gates that are to be automated to have increased structural frames etc so the gate isn't pulled apart. Therefore, if adding automation to existing gates, call for advice prior to fitting.
Single Arm Automation on Field Gate
Single gate automation fitted to one of our Five Bar Field Gates. Automation arm visible on the top right side of gate. Enjoy easy access to your home. Daitem intercom system has been fitted to the right post. This connects to the customers property and allows the gate to be opened from within the home when a visitor arrives.
Underground Automated Gate – Shown from Rear
Underground automated gate using our Berkshire Driveway Gate. As you can see, the gate has two main hinges, one either side then connected to the underground automation motor via a bracket on the bottom corners.
Automated Sliding Gate
One of our York Sliding Gates finished with Western Red Cedar automated using a BFT sliding gate motor. This system has been set up using a track on the ground with support post connected to the sliding gate via a "U" track rail system.
Automated Sliding Gate
One of our Kingston Sliding Gates finished using Western Red Cedar. Automation by BFT using track on ground system. Width of opening is over 5.5m. This has been installed with upgraded security features such as additional safety edges. The motor is a low voltage 24v kit that has a built in stop and return if gate comes into contact with an obstruction. We can advise all on the benefits of additional safety systems to ensure your loved ones are kept safe. Any installation carried out by Gates and Fences UK will always have safety as number one priority.